State, Federal, FICA taxes are displayed with the option to enter 401(k), 125 Plan deductions
See changes to any input number reflected instantly on the screen
Easy gross-up (net-to-gross pay) calculations; even allows for multiple gross-ups on the same check
Text (English) explanation of how taxes and net pay were calculated
W4 printout to hand employees in minutes
Install the demo version from the download page, click on Help and see all the new features
MONEY BACK GUARANTEE
Click on "PayBreeze! Downloads" (upper right hand corner) to access a Free Demo Version
The new PayBreezeII: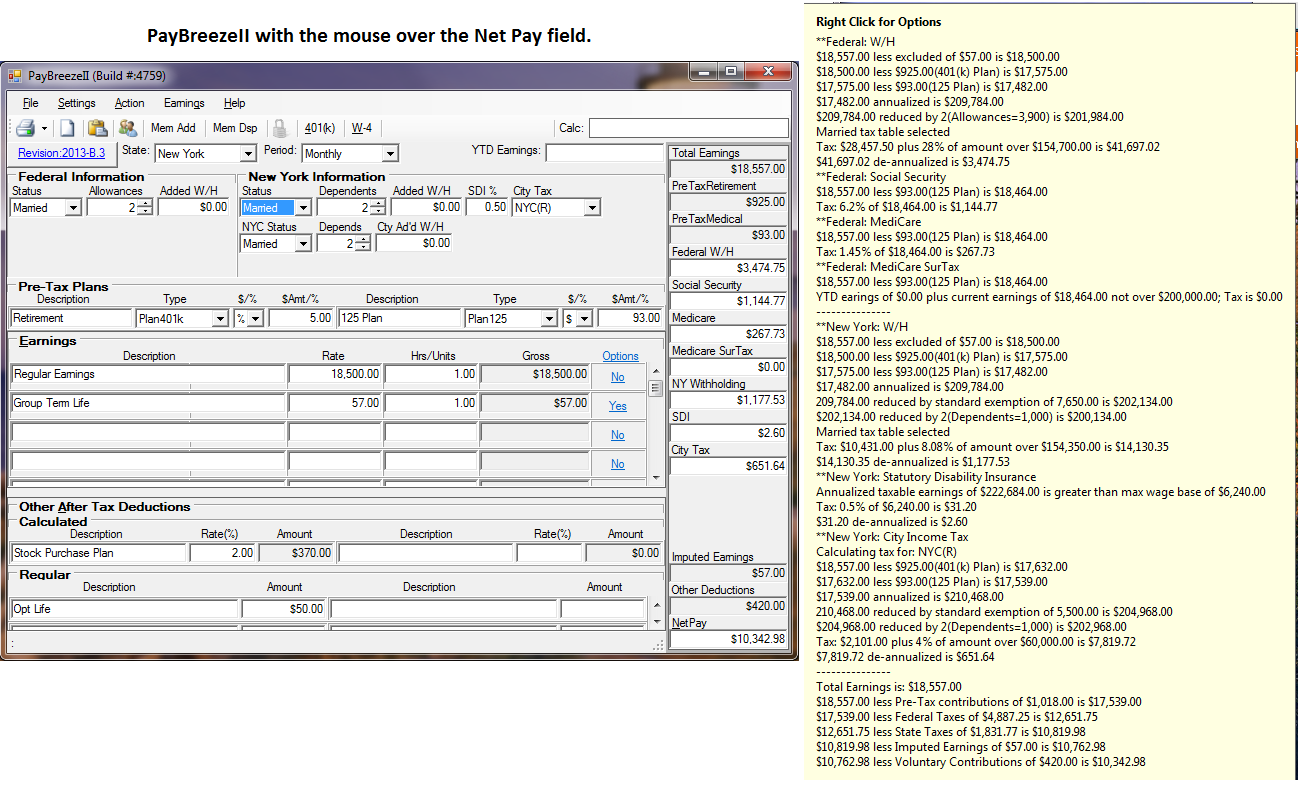 ---
PRICING:*

One-time

12-month

1st Year

Version

Initial Fee

subscription

TOTAL

Full 50-state

$250

$114

$364

**Regional Editions:
Northeast
South, West
Midwest

$200

$94

$294

Any Single State
(ex. CA)

$150

$79

$229

California or Federal Only

$125

$54

$179

PAYMENT OPTIONS:

To Order PayBreeze, contact:
General Programming, Inc.
PO Box 1002
Tracy, CA 95378-1002
(209) 832-4417
(209) 832-4431 fax

We can invoice you
with or without a PO

Email:




---

PAYBREEZE! LICENSING AGREEMENT

Your purchase grants you a "site license", which allows for an unlimited number of users of the software, as long as they are located at (or operate out of) the address for which the license was purchased.
*Pricing: Subject to change without notice. CA customers add CA sales tax. Renewal Prices effective for renewal dates 1-1-2008 or after.
**Regions:
West- AK, AZ CA, CO, HI, ID, MT, ND, NE, NM, NV, OK, OR, SD, TX, UT, WA, WY
Midwest- IA, IL, IN, KS, KY, MI, MN, MO, OH, TN, WI
South- AL, AR, GA, FL, LA, MS, NC, SC, TN, TX
Northeast- CT, DE, ME, MA, MD, NH, NJ, NY, PA, PR, RI, VT, VA, DC, WV